Lodging l'Atelier
3 stars lodging located in Gaume

comfortable place
stay in couple or with your family

an old barn completely transformed
beautiful facade and its large bay window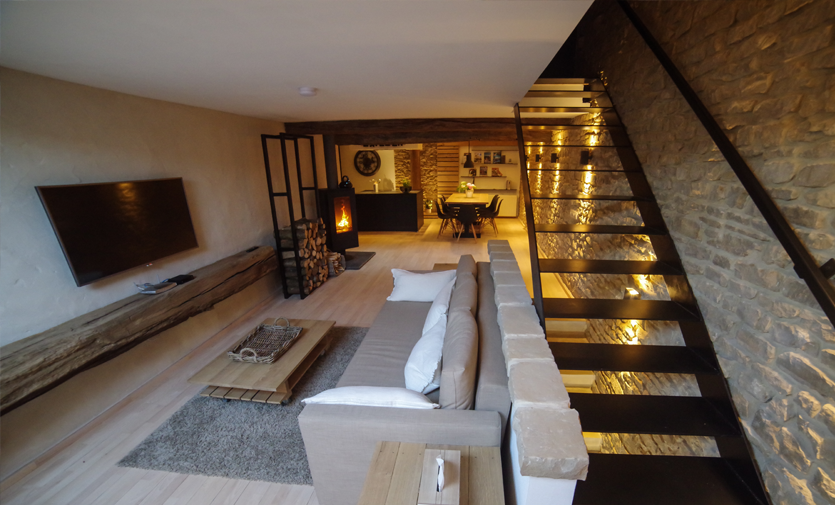 3 stars lodging located in Gaume
an old barn completely transformed
The ideal place for your stay. Composed by 2 bedrooms and a big bathroom, this charming holiday home lacks for nothing.
This 3 stars lodging in Gaume will be the ideal place for your stay.
Details
Between Ardenne and Gaume
Lodging l'Atelier

Rue Nigely, 19
6820 Fontenoille (Florenville)
Belgium
marine@latelier-gite.be
+32 (0)474 66 93 03
Nous avons reçu un accueil très chaleureux. Le gîte est superbe, aménagé avec goût. Il est fonctionnel, bien équipé. Literie impeccable. Cette maison nous apporte calme, détente, repos.
Prachtige verblijfplaats! Héél smaakvol ingericht en ook fantastisch dat er zoveel elementen van de streek zijn gebruikt. Alles is aanwezig zelfs tot in het kleinste detail. ook fijn dat je toch buiten kan zitten ook al is er geen tuin maar dit hebben we niet gemist. Ook een super onthaal en uitleg. Grote aanrader voor mensen met en zonder kinderen.
Nous avons passé un excellent week-end prolongé dans ce magnifique gîte. Entièrement équipé, vous n'avez vraiment besoin d'apporter que des serviettes et des vêtements. Le reste est superflu car chaque détail a été pensé ! Nous reviendrons certainement!